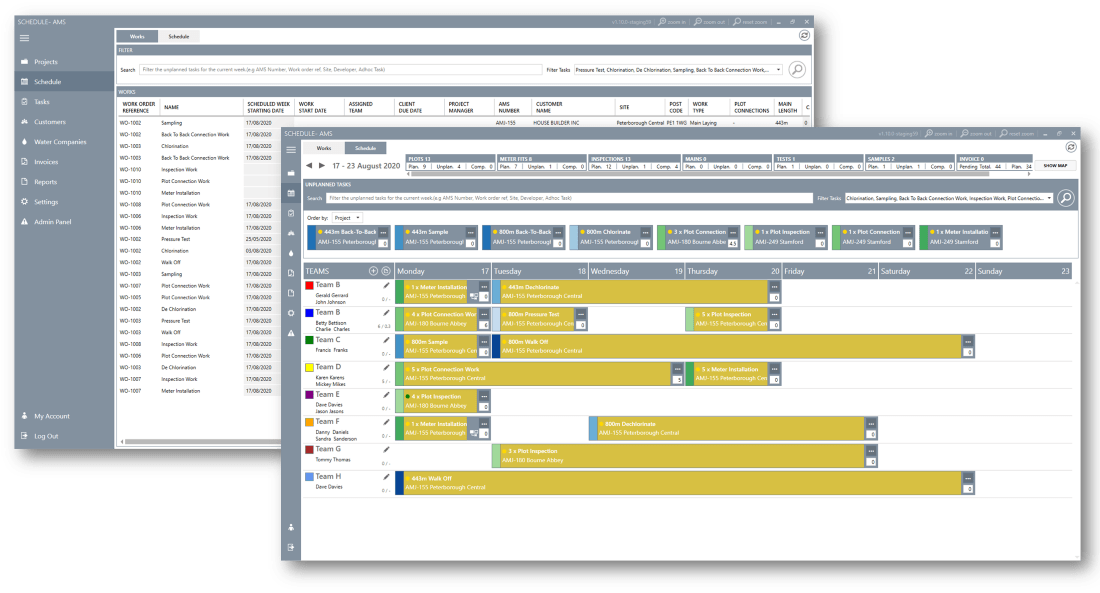 Planning & tracking for hundreds of projects
On a day-to-day basis, Amjutan deal with hundreds of projects which each have hundreds of water mains and plots. Trying to plan, schedule and track these is not easy. When we first met the directors of Amjutan, they were concerned that their current workflow processes (a combination of papers, emails and spreadsheets) were just not adequate.
Amjutan's process is to plan the work for each project and then schedule it for their construction teams to complete.  They realised that their current planning, scheduling and monitoring processes were mostly manual and costing them many hours of staff time. In addition, they discovered that manually completing these tasks was error-prone, with the potential to double-book or incorrectly allocate resources and also undercharge, due to some items being missed from invoices such as rescheduled jobs.
Amjutan were looking for a bespoke system that would allow them to plan a project and then smoothly transition to scheduling and tracking. As projects are central to their work, they required a single place where all information about a project could be easily located.
Customised desktop software application
As Amjutan's customers wouldn't need to access their system, we proposed a desktop application that could be installed on each user's computer. Data would be shared via a central database. Each logged-in user would be granted access via the permission system so they could view and modify different areas of the application and data.
Tackling the scheduling
One of the most important areas of the application is scheduling. On the first tab, users can view all work in progress (see case study main screenshot). On the second tab, a visual drag-and-drop interface enables work to be scheduled and assigned to a team. Dragging the right-hand edge spreads the work over several days and hovering over the dots icon (…) produces another menu for further options, such as the ability to split the work across several teams.
On the right-hand side is a slide-out map that shows all work for the project whether allocated or unplanned.
Projects at a glance
A view that encompasses all data for a single project with tabbed access for the various elements of the project from left to right:
Details – general information, location and map
Financials – Amjutan works, water company charges, asset payments and project total
Project tracking – dates that milestones are due
Contacts – contact details of persons involved in the project
Files – storage of any documents associated with the project, such as site drawings
Work items – individual pieces of work to complete
Work order – a high-level view of the work
Comments – notes associated with the project
Tasks – tasks created for the project (these would also appear on the main task view)
Invoices – work to be invoiced and previously invoiced work
Ad hoc work – work that was not on the original plan
Mobilisations – extra visits required e.g. inspections
Reports made clearer
Overall views of different aspects of the data, across all projects.
Invoicing with all the detail
An overview of all projects that need invoicing and all invoices that have been created. Clicking into one allows users to see all the details of that particular invoice. Amjutan were so pleased, they said this about us:
"As soon as we met with Ryan, we knew that BSPOKE were exactly what we needed.  We quickly saw that BSPOKE Software could solve not only the job management issue we had, but there was limitless potential for all our other processes, so it became a one-stop-solution for everything.  I'd definitely recommend BSPOKE as there's always transparency, nothing is a problem, they're quick to react, easy to talk to and upgrades are just so easy – overall great value for money."
If you'd like the same kind of custom software for your company, click here. For more advice on how smart businesses such as this one can benefit from new ideas and technologies, visit our news page here.