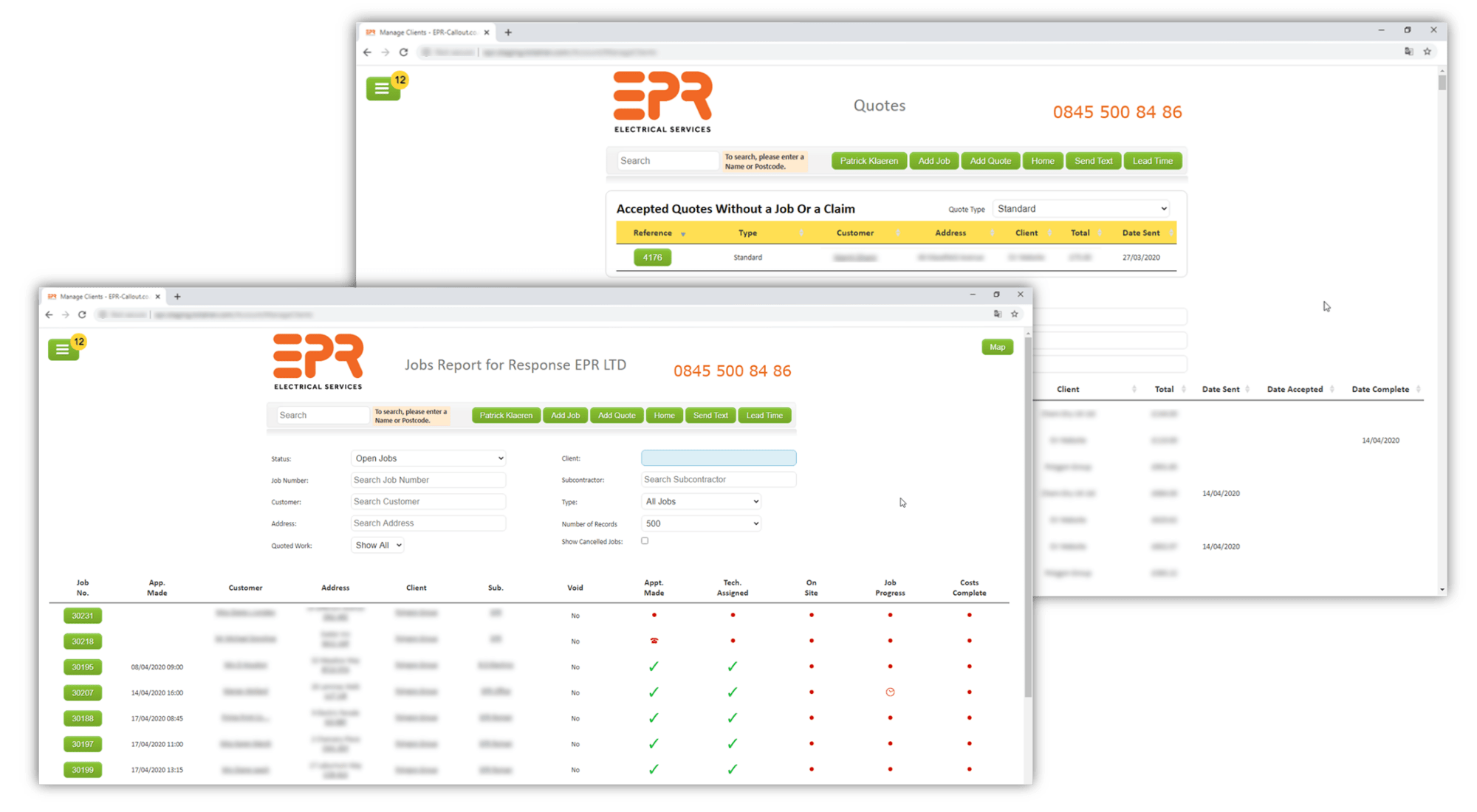 We delivered improved business efficiency
The perfect solution for EPR was a web portal which would allow their clients to add jobs that were instantly available for their staff, so they could immediately contact customers to book an appointment. To ensure that new jobs added by clients were never overlooked, alerts by text and email were built into the system.
Using Google maps, office staff are instantly able to see where jobs are located across the UK and these are colour coded for various stages of operations. Our integration with Fleetmatics gives a real-time view of where each van is located at any given moment.
Once all the details are entered into the system and the job has reached the end of all appointments, the system will generate documents when required and make them instantly available to the client. Invoices and quotes can also be generated and, in specific instances, are sent automatically.
The result – better customer service
EPR office staff benefited immediately as they could now easily track their tasks – a quick look at the home screen gave them an overview of all upcoming tasks. The extensive filtering system also allowed them to easily view information they required. Using the map and the integrated calendar, office staff were able to monitor and track technicians' progress, again, in real time.
The new system also provided features for technicians to view their daily work, upload photos, keep track of their van's stock and enter completed work onto their chosen device.
Clients were happy with being able to add jobs instantly, without the need to telephone or email them to the office. Instant access to online updates and the ability to download required documentation was also a tremendous boost to their productivity.
Our client said afterwards, "From the outset, BSPOKE Software provided cutting-edge technical competence and innovative, cost-effective software development."
If you'd like the same kind of custom software for your company, click here. For more advice on how smart businesses such as this one can benefit from new ideas and technologies, visit our news page here.