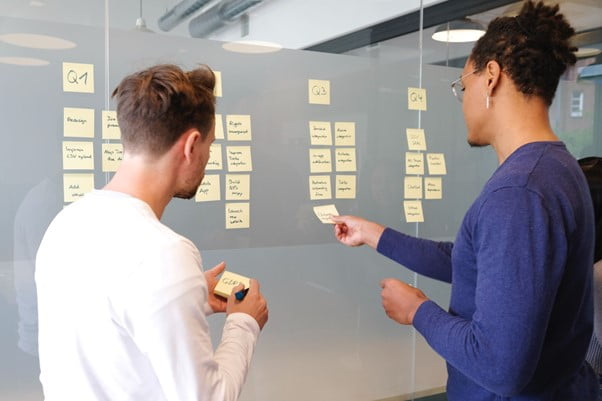 Within companies and projects today, there are so many different job titles and roles, some of which have new titles that sometimes sound incredibly similar to each other. Product managers and product owners are two of these similar-sounding roles and ones that are often confused within companies. Whether you are working on a project, hiring a new employee, or just looking to increase your awareness about positions within your company, in this article we're going to take a deeper look into what's involved in both the product manager and product owner roles within your team.
Who Owns a Product – the product owner or the product manager?
As these terms are so often mistakenly used to describe the other job role, it can be challenging to know who is running the show. Depending on the size of your company and the life stage of your product, these roles may operate in a different manner between various organisations. However, in any company, both the product manager and the product owner should be working towards the same goals. They should both want to build or improve a product to offer great value to both their customers and stakeholders.
However, this common goal is where some of the confusion between the two positions begins. While they are united in their vision, their responsibilities do vary. The product manager is responsible for discovering what their users need and uses a product roadmap to encourage the team and direct them on what to build next. On the other hand, the product owner is looking to manage the product backlog and increase its value. They will be responsible for the user stories throughout the production process. They will both need to have excellent communication skills, but the product manager is generally the more customer-facing role. Let's take a deeper look into exactly what's involved in each job role in an organisation.
Product manager – job description and responsibilities
A product manager works to discover the needs of their users and uses a product roadmap to align the team in their work. Their role is involved in the entire lifecycle of the product, from the discovery process through to the final product delivery. They should have a solid idea of the customer's needs and understand the product and the market they are entering into. They will be considered the spokesperson for the customer and is the leader and motivator for the team. It's a very multifaceted role that involves a lot of strategic leadership. These are some of the most common tasks you would expect a product manager to undertake:
User research to discover their needs and requirements
Creating a long-term strategy for the product
Using a product roadmap to encourage the team to work towards a common goal
Encourage their team at all times by communicating the strategy for the product
Choose which features will be built next
Delivering to the customer and communicating with them to ensure their needs are met
When hiring or working with a product manager, you can expect them to all have similar skills and ways of working. A product manager should have fantastic communication skills and should be comfortable speaking with customers, stakeholders, and their team members. Most team members will consider their product manager to be very organised and have strong technical skills and knowledge. They are usually very business savvy and happy to work with numbers, which comes together with the market research they will need to complete. Finally, they are a strong leader who is able to select the right team members to work on a project to ensure the project is completed to the highest standards and with no delays.
Product owner – responsibilities and requirements of the role
The product owner is more concerned with maximising the product's value and works closely with the development team. They mainly look after the product backlog, but there are other aspects that make up their day-to-day work as well:
Creates user stories and prioritises which ones to work on first. They understand the customer's challenges and work to arrange user stories to overcome these issues in the product backlog.
Attends meetings with the development team to ensure they are following the roadmap which was created by the product manager.
Offers feedback to the product manager regarding the roadmap.
Acts as the voice of the customer within the development team.
Ensures the development team knows what to work on next and prioritises different aspects of the production process.
In comparison to the product manager, the product owner works behind the scenes with the development team instead of being customer-facing. They will work with the development team to complete the project and will need to have a good level of technical knowledge. While they aren't working with the customer directly, they'll still need to have excellent communication skills to direct the team. They'll understand the customer needs and market research and will be able to review this with the product manager as needed. A good product owner will be able to react quickly to offer solutions to issues and understand where the team's attention needs to be focused that day. Finally, user stories management is the most integral part of their role, and they must know how to manage stakeholder expectations and decide what should be prioritised each day or week.
To summarise
While the product manager and product owner both work together towards common goals, as you can see, there are very different activities involved in both of their job roles. Both positions require good communication and organisation, and they'll need to understand where time and effort should be spent at certain points of the process. When working with a product manager or product owner, it's important to be able to differentiate between these two roles, so your communication with both of them will be appropriate. These positions generally require a good amount of knowledge and experience in the industry and are highly sought after positions in many companies in the world today.
Why choose us?
We have created software for a variety of businesses – some examples can be view viewed by clicking here. Contact the folks at BSPOKE Software today!